Dr Jonathan Williams (St Hilda's College, Oxford)
Jonathan's interest in Rameau began whilst a student at Manchester University. He came to Oxford to read for an MPhil and DPhil, for which he undertook research on Rameau's previously unpublished Anacréon of 1754 under the supervision of Brian Trowell, Edward Higginbottom and Graham Sadler. After visiting Paris to examine sources at the Bibliothèque nationale and the Archives nationales, he reconstructed an edition of Anacréon which was subsequently published in Bärenreiter's Opera Omnia Rameau and given its modern première by Jonathan and the OAE in 2012. Jonathan subsequently founded the Rameau Project, became an inaugural AHRC Cultural Engagement Fellow at the Oxford Research Centre in the Humanities (TORCH) and was awarded research funding from the University's John Fell Fund to create the Rameau Project.
Professor Graham Sadler (University of Oxford & Birmingham Conservatoire)
Graham Sadler is Emeritus Professor of Music at the University of Hull, Professor in Music at Birmingham Conservatoire and Research Fellow at the University of Oxford. His many publications on French music of the seventeenth and eighteenth centuries include critical editions of two Rameau operas, Zoroastre (1749) and Zaïs (1748), published respectively in 1999 and 2010 as part of the Rameau Opera Omnia, of which he is a member of the editorial committee. He is co-author, with Caroline Wood, of French Baroque Opera: A Reader (Ashgate, 2000). His monograph, The Rameau Compendium, for Boydell and Brewer, is scheduled for publication in 2014.
Edith Lalonger (Baroque choreographer, Paris)
Edith Lalonger's work as dancer, choreographer and dance historian is distinguished by a transdisciplinary approach to choreography which allies theatrical expressiveness with a special sensitivity, born out of her musical background, to the musical score. She began her career in Baroque dance in the conservatory in Montréal. After completing an MA in music, and a diploma in dance and music teaching, at the Orff Institut, Salzburg, she studied in Paris with Francine Lancelot and her ensemble Ris et Danceries, famous for the choreography of Lully's Atys with Les Arts Florissants under William Christie. She has since worked with such specialists as Piotr Fomenko, Béatrice Massin, Marie-Geneviève Massé, Christine Bayle, Christophe Coin, and Catherine Turocy. While working as a dancer, Edith began to produce choreographies for both ballet and theatre companies. In addition, she conducted research through the Sorbonne which led to publications in the Larousse Dictionnaire de la Danse, an article on J.F. Rebel's Les Caractères de la Danse for King's College London (1996) and a study on Les Chaconnes d'Arlequin for the Centre de Recherche sur les Arts du Spectacle (2004). She has presented her research at several international conferences including those at New College, Oxford, and at the University of Salzburg.
During 2022, The Rameau Project joined with the Opera Company to bring to life the original version of Rameau's third opera, Castor et Pollux (1737). As well as giving the UK premiere of Jonathan's new edition, the Castor et Pollux: Rising Stars project provided rare and much-needed opportunities for singers in the UK to perform this extraordinary repertoire.The project culminated in performances at the Sheldonian Theatre, Oxford, and at Stour Music Festival. More are being planned for 2023-24.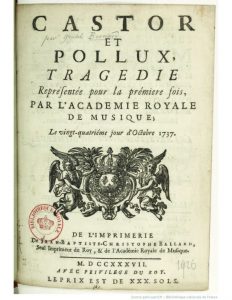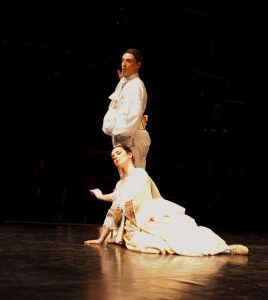 DANCE
Some of the most compelling questions about the performance and understanding of Rameau's operas concern the role played by dance, movement and pantomime:
• What can the kind of choreography and movement that Rameau might have expected tell us about the music and about the fascinating and peculiarly French ballet-operas?
• Might the dance steps used by Rameau's 40-strong dance troupe inform our idea of tempo, phrasing, gesture and characterisation?
• How closely should the dance mirror the music?
• Does Baroque dance speak to a modern-day audience?
• How does a menuet convey meaning?
• What stage action took place outside the dances during, for example, the entr'actes?
• What did the members of the chorus do on stage?
• How might a better understanding of movement, gesture and narrative inform tempo, phrasing and characterisation, and vice versa?
• And might the experience change our perception of the genre?
The use of movement in Rameau's stage works goes far beyond providing spectacle: it is an integral element in conveying the narrative. With dance sequences forming as much as a quarter of a Rameau opera, this has proved problematic in modern times. Recent productions at two major British opera houses – the first Rameau for both companies – are representative of two current approaches, each linked to the producer's overall concept of the work: either to employ modern choreography (as for Jonathan Kent's Hippolyte et Aricie at Glyndebourne in 2013); or to remove dance almost entirely (as for Barrie Kosky's Castor and Pollux at ENO in 2012).
The Rameau Project is therefore exploring the choreographic idioms and approaches to staging that might have been employed at the Paris Opéra during the three decades Rameau worked there. With none of the original choreography existing, this is no easy task; it requires the application of the same rigour to the study of stylistically appropriate performance of dance that has been applied to the music of the period. It depends on the conductor and choreographer working closely together to unlock the contemporary sources and to integrate the work's musical and choreographical vocabularies. It demands that we understand the aesthetics and influences which shaped the operas and it draws attention to the indispensable role that gesture and movement must play if our understanding of these works is to progress.
In implementing such an approach to this 'problematic' genre so far, our belief in Rameau's opera has been affirmed and, as the wealth of its sophistication becomes ever more apparent, our respect and admiration for Rameau and his team has deepened. What is more, any concerns we had that Baroque dance would not speak to a modern audience are being dispelled. The process is proving to be revelatory for us and everyone involved.